Rotrex OnSite will supply, install and test fixed and freestanding handrail systems, right across the UK. Our comprehensive range of fittings and sizes means that handrails can be fitted in a wide variety of applications, for temporary or permanent use.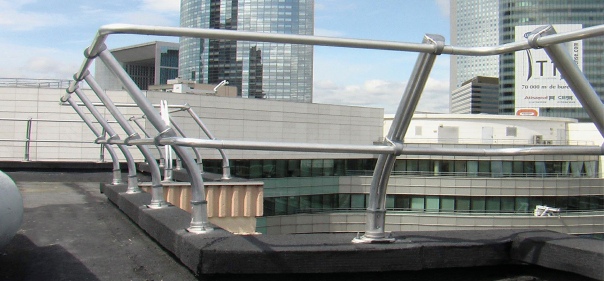 No special skills are required – no welding, no bending, no threading, just an Allen Key to tighten the set screws and you can join tubing together in a matter of seconds.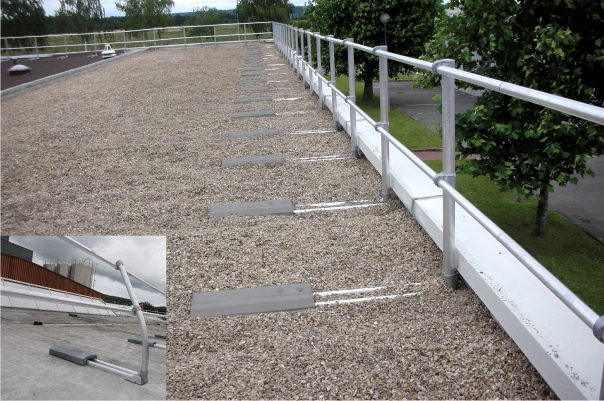 KeeGuard – roof edge fall protection system
The KeeGuard modular railing system is specifically designed for flat or low sloping roofs (max 3 degree pitch). The KeeGuard system prevents falls, ensures rooftop safety, and does not penetrate the roof membrane. The KeeGuard roof edge fall protection system can be used for retrofitting to older buildings as well as for new construction.
Features:
Modular versatile construction
Recycled PVC weights, with optional plastic covers available for the counterbalance arm
Does not penetrate the roof surface
Fittings and tube galvanized to BS EN ISO 1461
Weights available in grey or orange as standard, other colours available at extra cost
Fitted with corrosion protected grub screws
Three optional types of upright available – standard, radiused and raked
Approved to EN 14122 Part 3 and EN 13374 Class A
Benefits
Quick and easy to install
No welding, bending or threading on site
Savings in installation time and cost
Sections can be added to and changed on site
No special tools required
Recycled PVC weights are easy to handle and position, reducing installation time


Require Fixed or Freestanding Handrails- Contact us

A selection of companies we are proud to say are Our Customers