Rotrex OnSite provide personal rescue devices by Latchways – lightweight and unobtrusive whilst offering outstanding safety without getting in the way.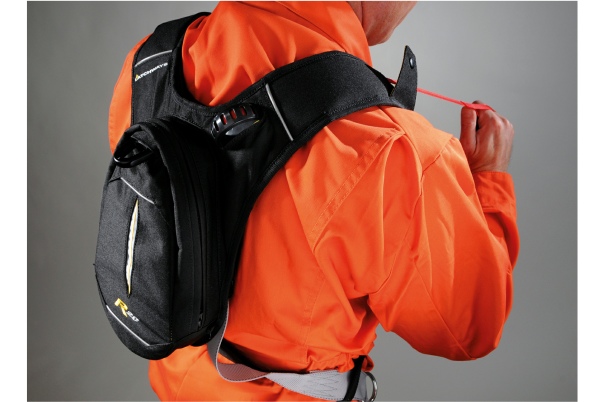 Rotrex OnSite is a Latchways approved maintenance, repair and installation provider.

The Latchways personal rescue device is designed as a simple and reliable means of self rescue. It's worn as part of a standard harness and with Latchways patented components, it takes up very little space. Activation is simple and done by just pulling the cord. It also has a secondary release mechanism built in.
The 'backpack' is small and neat, never getting in the way, it just becomes part of everyday workwear for the engineer. It's also robust enough to stand up to the elements when working outside.
Minimal training
Safety doesn't get much simpler than this. Using the device is just a matter of pulling the cord and the devices integrated braking mechanism ensures that the person is lowered to the ground in a controlled way.
Mechanical integrity
This personal rescue device uses only quality components, with a limited number of working parts, ensuring the 100% mechanical integrity required by a device of this type.
Standards
The Latchways personal rescue device consists of a full body harness and integral descender device that conforms to all the required standards.
The harness conforms to:
EN 361: 2002
ANSI Z359.1.2007
The descender device conforms to:
EN 341: 2011 Type 1, Class D
ANSI Z359.4:2007
The 'backpack' and harness conform to:
BS EN 13463-1:2001 equipment group 11 category 2

Require a personal rescue system - contact us


A selection of companies we are proud to say are Our Customers